---
Premier Leadership Training Program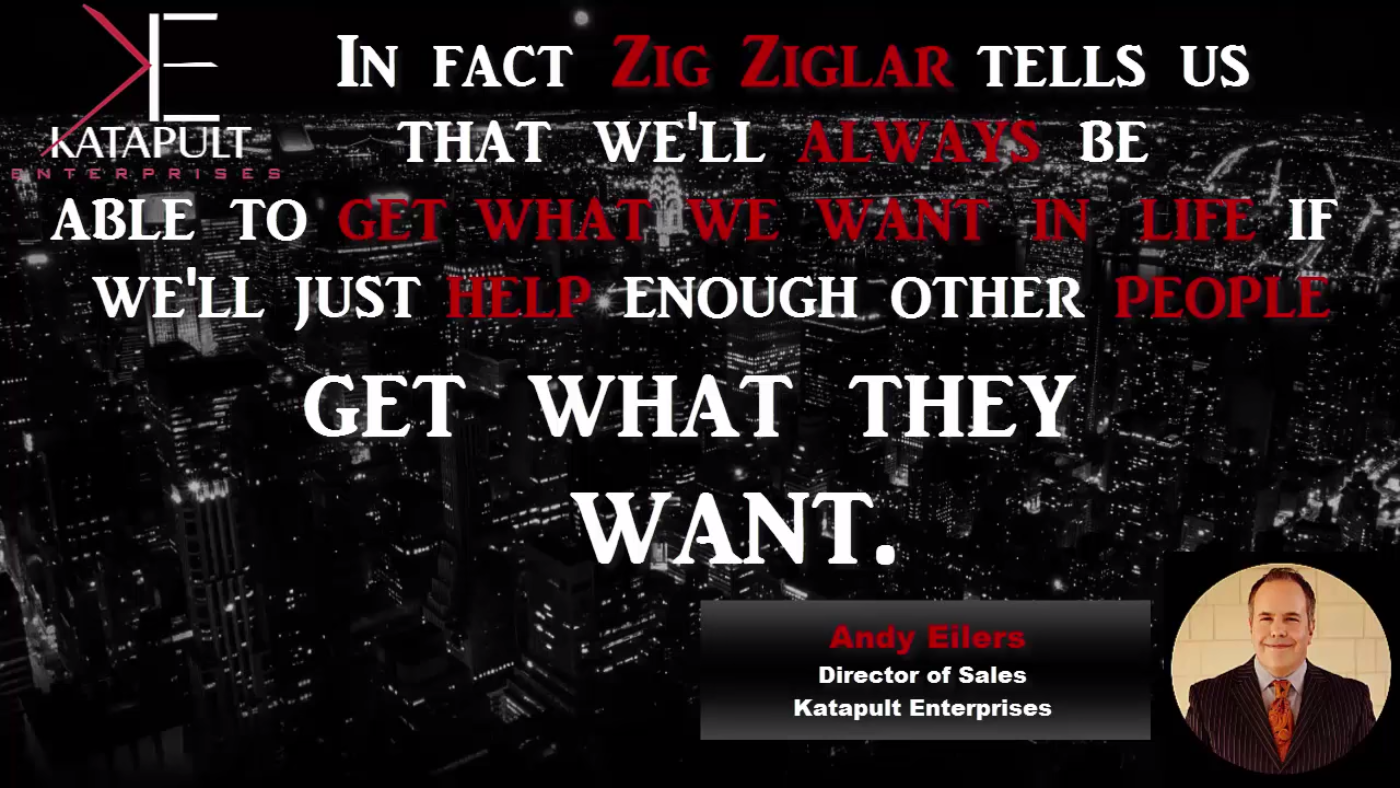 Katapult Enterprises own Director of Sales, Andy Eilers, explains why you should find out more about our Premier Leadership Training Program!!
Over the past 25 years, Andy has been helping individuals and companies to find purpose, to allow themselves to get to the GOALS & DREAMS that they have, for themselves & for those around them. Would it surprise you to know that 85% of the people in this country go to jobs every day that they hate? That's a statistical fact.
The reality is NONE of want to be doing THAT. In fact, Zig Ziglar tells us that we'll ALWAYS be able to get what we want in life if we'll just HELP enough other people get what THEY want.
Does that sound more like YOU?! Somebody who wants to HELP OTHERS get what they want as opposed to going to a job that they hate? Here at Katapult Enterprises we have designed & developed a program that will allow you to do JUST THAT!
And that's RIGHT….it's our Premier Leadership Coaching Program.
This is the ONE that will allow you to wake up every day with a PURPOSE, with EXCITEMENT, with ENERGY…and to be able to HELP OTHERS find exactly WHAT it is that THEY WANT.
Maybe you're just looking to IMPROVE YOUR CREDENTIALS…
Maybe you just want to bring CLARITY & PURPOSE into your life for a change…
Maybe you just want to INSPIRE those around you to be able to BUILD a LIFE of DREAMS & GOALS they can be EXCITED about.
Well IMAGINE if you could do that right here at Katapult Enterprises?! I've worked directly with Dr. Zoe now…and I know for a fact that everyone who has worked with her has been EXCITED…has been able to walk away with the information they need to develop for themselves & for others…and to develop a Business Opportunity that now allows them to go out & help other people, no matter what they do NOW!!
Take a look at our Premier Leadership Training Program, Call Us, find out all the information & see if this isn't EXACTLY what you're looking for!
Henry David Thoreau tells us to "Go Confidently in the Direction of your DREAMS. Life the LIFE you have IMAGINED."