---
Step Up or Step Out
By Ed Toy
Often times in life, in times of adversity, we are faced with a choice. Our instinct can be to run the other direction, and escape as far away as we can to avoid uncomfortable feelings. However, in order to achieve our goals in life, it is often necessary to go THRU difficult situations in order to get to the other side.
Recently I have been a few difficult situations that have required such resilience and perseverance. One of the most challenging activities I have ever engaged in is surfing. Growing up in Florida, the waves were often small with light wind in the mornings during the summer. These small clean ocean conditions were perfect for learning to surf!
Over the years I have had the opportunity to travel all over the Caribbean, Central America, California and Hawaii in search of waves. More recently, often times we would check swell models to be sure the conditions would be ideal before booking flights.
As I have become a more experienced surfer, my need for bigger and more challenging conditions has grown. So recently another avid surfer friend of mine and I planned a trip to El Salvador, a place neither of us had ever been. With stories of rampant gang activity in the city of San Salvador, we were a little apprehensive, and hired a guide for the week to ensure our safety.
Of course, as luck would have it, when we got a couple of weeks away from our departure date, the swell models for the southern Pacific Ocean started to show major storm development pointed in the direction of Central America. If we did not have any nerves to begin with, for sure there were a few butterflies in the stomach now!!
As the days grew closer, our apprehension became more real as we drove to the airport in Ft. Lauderdale. The location we had chosen for our stay was known as a swell magnet, which means the waves are often larger than other nearby spots. Adding to the suspense was tropical activity that was causing torrential rain in western El Salvador, which was where we were going to be staying for the trip.
There was talk about changing plans and going somewhere more safe, or even postponing the trip altogether, but we were committed to this adventure with a deposit already paid to the hotel. Flying into the San Salvador airport, we could see how green and tropical everything looked even from the air. The anticipation was growing, and turning into excitement as we met our guide and loaded up our gear into the waiting van!
One our way to the hotel, we drove through La Libertad, home of Punta Roca – El Salvador's most famous right-hand point break. A point break is a bend in the coast, where the swell curves and creates a perfect surfing wave that goes for hundreds of yards. Deep water beside where the waves break creates a channel which makes it easy to paddle out, even when the waves are big.
We checked a handful of other spots on our way to the hotel, and then checked in and began to assess the conditions at our new home, Mizata Point Resort. The waves were HUGE, and there was no other surfers around. It was time to face our fear, or go home with our heads between our legs!!
Mizata's most famous surf spot is a right-hand point break like Punta Roca, but the channel is not as forgiving. While Punta Roca breaks into a big bay, Mizata Point sits in front of an enormous cliff with a haystack rock called the Cheese Grater in front of a VERY small beach. It could not have been more intimidating for a Florida surfer!
Having experienced the power of the Pacific Ocean, I was eager to test my skills again. So knowing that I may not be successful in my first attempt, I put my fins in my favorite surfboard, and waxed up as I watched the nearly endless procession of swells hitting the rocky reef in front of the hotel. The conditions were fairly clean, with not much wind, but it was obviously big out there, and a lot of unpredictable currents to contend with.
Paddling out for the first time at an unfamiliar spot, with nobody around, is intimidating. but I knew that I would need to at least get in the water to begin to understand the way the currents work before the conditions improved. So I hobbled down the rocky shoreline to the water's edge, and began to try to work my way out to the break. After 5 minutes it was obvious that there was not enough break in the sets to allow me time to get out past the waves. So I headed back to the shoreline. My decision was definitely influenced by the enormous cliff 50 yards to my left, and the cheese grater rock behind me!
The next day our guide took us to another famous surf spot where there are 2 separate right-hand point breaks next to each other – K59 and K61. The swell had dropped slightly, and the wind conditions were nearly perfect! There were a couple of other surfers already out, which gave us some confidence that today we would get some good waves.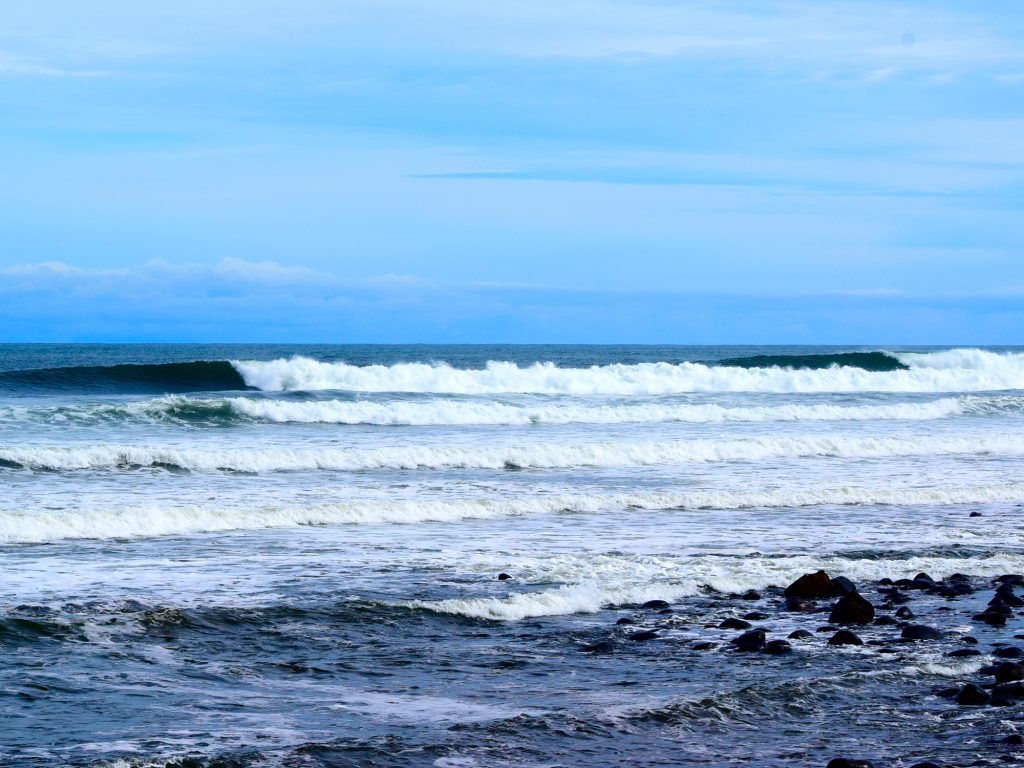 It turned out to be an easy paddle our first time out, considering the size of the waves nearing double overhead on the bigger sets. K61 has a sort of channel when it's this size, but when the bigger sets come, they would break several hundred yards out the back, which is a little intimidating!! But the medium-sized waves would break perfects for a few hundred yards to the right, and we both ended up catching a few decent waves.
After an hour we headed back to the beach to reapply sunscreen and grab a drink of water. The tide was dropping, which was making the waves improve, and it was time for another session! Instead of paddling towards the point, we paddled straight out from our parking spot at the oceanfront restaurant. This turned out to be a bad idea! As soon as we got to where we thought we were safe outside the main break, a HUGE set approached from the horizon. We paddled as hard as could…and I made it (barely) but my buddy got caught inside, and his board smacked him straight in the face. He was shaken, but not hurt, and headed back to shore to catch his breath.
I surfed for a while, always looking out at the horizon to make sure another big set did not land on my head! After a few more waves, I rode a wave back to the beach to take a break and have a look at K59, the other surf spot nearby. We drove up the hill where we could see the wave from the cliff above, and it was something else!! The waves appeared to be nearly perfect, with glassy surface conditions and only a handful of guys out. This was why we came to El Salvador!!
We drove back down to the beach and walked down a rocky path towards the paddle out spot. As we walked up the beach, we could clearly see that the waves were MUCH bigger than they looked from the cliff! And what looked like a perfect setup with a deep channel for paddling out, included a shallow inside section with waves POUNDING hard on the way out to the channel. This was NOT going to be easy.
As we were getting ready to paddle out, we could see a female surfer on the inside caught in a strong current and having to duck under multiple overhead heavy waves in order to get back to the paddle out spot. Were we ready for this?! Only one way to find out. As I jumped in the water and hugged the rocks to keep from getting swept down the beach like she did, the surfer girl (with a string bikini I might add!) paddled out beside me and we both timed it perfectly to get out without a scratch.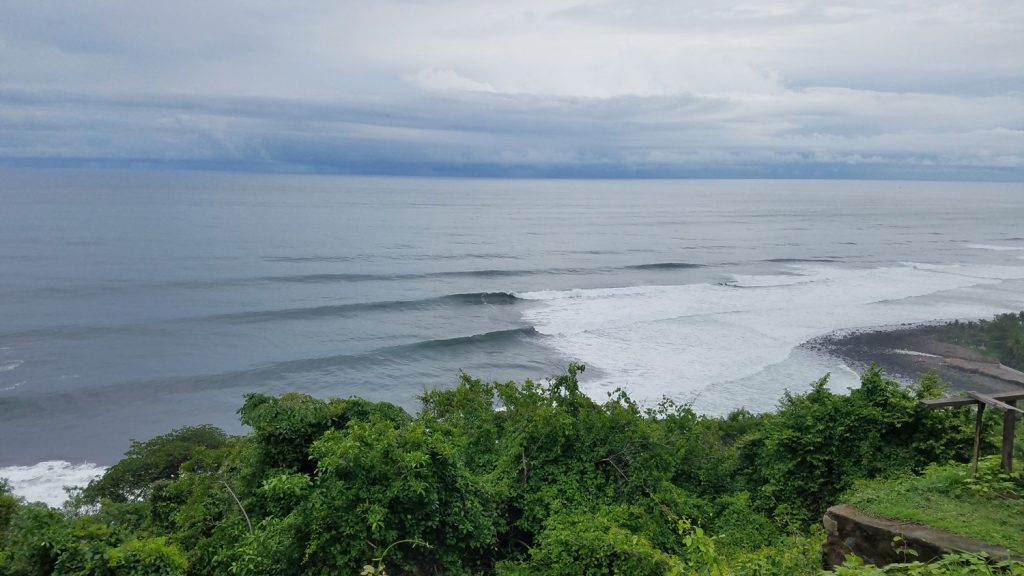 Now I have surfed a few right-hand point breaks in my day, but this particular spot is world-class. What this means is that when the waves come in, it breaks in the same exact spot every time, and creates the absolutely perfect setup for surfing. So, all you have to do is paddle out to where everyone else is sitting, and when the set comes, pick a wave that noone else wants, and GO!! No problem right?!
Only catch is that these waves are breaking over rocks – which we do not have to deal with in Florida. And it's big for a Florida surfer, with wave face heights of 10-12 feet on the bigger ones! Remembering my buddy's ordeal down the beach, I do not want to get caught inside by a monster, so I keep watching the horizon closely along with my position in the lineup.
After a few smaller ones, I am starting to find my feet in the wax – so to speak – and a big one comes right to me. I know that if I do not commit, there is a chance that I will miss the wave and have a bigger one behind it crash right on my head. So I turn and start to paddle HARD, put my head down, and take a deep breath to relax as the wave starts to pick me up. It only takes a few seconds before I feel my surfboard start to accelerate, an then I am jumping up to my feet and screaming down the face of a wall of water. Yew!! This is what I came to El Salvador for.
With the sun starting to drop towards the horizon, I call it a day after my one big ride, and we head back to the hotel for dinner. The next few days would see rainy and windy conditions, and we were beginning to wonder if we would ever have ideal conditions for Mizata? However, the last 2 days of our trip, the stars aligned, and the swell dropped into the head high to slightly overhead range with light winds.
Waking up that Saturday morning and seeing sunny skies, light offshore winds grooming the perfect swell hitting the reef, I was reminded why I started surfing in the first place. Despite the hardships, when you get a good wave out there and have it all to yourself, all of the wipeouts are worth it! Those last 2 days there was no fear, only excitement and the feeling only a surfer can understand, which we call STOKE.
Katapult Enterprises can help you overcome your fears, find your passion, and live your dreams through our Life Coach Certification, Confidential Coaching, and VIP Branding. #GetKatapulted