---
Justin Jedlica AKA "The Human Ken Doll" Gets Real, Raw & Relevant on Dr. Zoe Today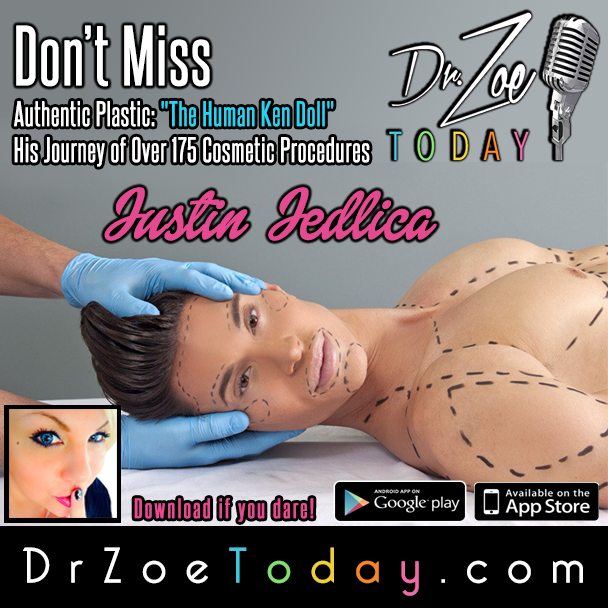 This week the Dr. Zoe Today Show welcomed yet another fascinating guest. Justin Jedlica, dubbed by 20/20 as "The Human Ken Doll" joined Dr. Zoe to discuss his journey of over 175 cosmetic procedures, how he feels about his public image and the struggle he overcame as a homosexual man to accept his sexuality (Justin has also been seen on E! Entertainment, The Doctors, Dr. Drew On Call, Huffington Post, Inside Edition, ABC, CNN, US Magazine & given advice on Botched just to name a few).
Dr. Zoe Shuster is known as "The Confidential Coach" to elite clients in business, entertainment, sports, politics and religion since 1998 (Clients seen on ESPN, Forbes, FOX news, FOX Sports, The Huffington Post, MTV, NBC Sports, The New York Times, NFL Network, Perez Hilton, TIME, USA Today, VH1, MSNBC, E! News, BET, ABC News & many more). She is the President & Founder of Katapult Enterprises, a company offering Ultra-Exclusive Service to the High Profile Lifestyle and is in the top 10 percent of all social media users worldwide. Shuster says of her guest, "To call Justin misunderstood sounds like too much of a victim mentality. This guy is living his dream, expressing art with his body, blazing trails for men in the cosmetic surgery arena and being intelligently true to WHO he authentically is! Justin Jedlica is a victor and the media should start portraying him as such."
Through her show, Dr. Zoe was determined to shed a more positive light on Mr. Jedlica, who has been depicted as a freak by most press. The one-hour episode did not consist of your typical interview. The Dr. Zoe Today Show, being rooted in the love, sex and relationships genre, has gained a reputation for bringing out a very real, albeit often controversial side in their guests. Past guests have divulged information about themselves that was "too personal", conveyed uncut remarks generally viewed as inappropriate, broken out in uproarious laughter and, in one episode, "America's Top Cougar" even faked an orgasm live on the air.
The first portion of the show consisted of a tell-all heart-to-heart interview sure to keep listeners hanging on every word. After taking a quick commercial break, "The Human Ken Doll" then participated in the weekly awaited "Ask Dr. Zoe" segment. During this portion of the show Dr. Zoe and her guest answered some of the umpteen questions that listeners have submitted, giving their expert advice on topics ranging from spicing up sex lives to dealing with outlandish scenarios.
The episode titled, "Authentic Plastic: The Human Ken Doll" was broadcast through the free "Dr. Zoe Today" app, available in the App Store and Google Play. You can access the interview under the "Listen" tab within the app. Those who do not have an apple or android device or who reside outside the United States can listen via the show archives available in iTunes or on http://DrZoeToday.com